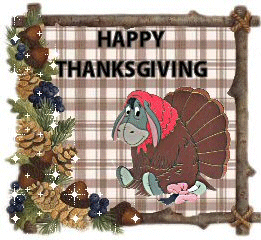 glitter-graphics.com

Good Morning!

Just a quick post to wish everyone a safe and happy Turkey day!

I have been busy, busy, busy, cleaning and cooking. I got the house cleaned good, finally, with just a couple of finishing touches to go. Yesterday I spent all day baking pies, which starved me to death! I can't wait to tear into those things!!!!!!!

We have a new baby to be thankful for this Thanksgiving! Lisa gave birth to Lillee Jean at 4:05 am Tuesday, November 25. She weighed in at 5.7 lbs at 17.5 inches. She came a whole month early, and will be staying at the hospital until Friday morning. I say she wanted out early for the food....LOL! So, we have been extra busy, as we just HAD to go to the hospital to meet little Lillee. She is so precious, and yes, I have pictures, but you'll have to wait!

So, if you have tried to contact me....that's why I have been MIA. Sorry! I will get back to everyone after the holiday, this week has just been crazy!

I'm heading to the kitchen now.....more food! YUM!!!!!!

Hugs to all!